2022 Senior Pastor Sabbatical
Frequently Asked Questions
What is a pastor's sabbatical?
The word "sabbatical" has its roots in the Biblical concept of Sabbath, meaning to rest or to cease. It's an extended time designed for a pastoral leader to step away from the day-to-day and reflect on their own current spiritual health, reestablish routines of health and wellness, and deepen one's own relationship with God, all to better serve Park Street Brethren Church in the future.
Has something happened? Is everything okay?
Never fear: this sabbatical has been in the process of planning and preparation for over a year. The global pandemic did not push us into this, nor did anything in Pastor Nate's life change to cause him or the church to request or force this upon each other.
Instead, after seven years of faithful service, we believe this is a good time for Nate to pause and rest, while we are not in a season of stress or crisis.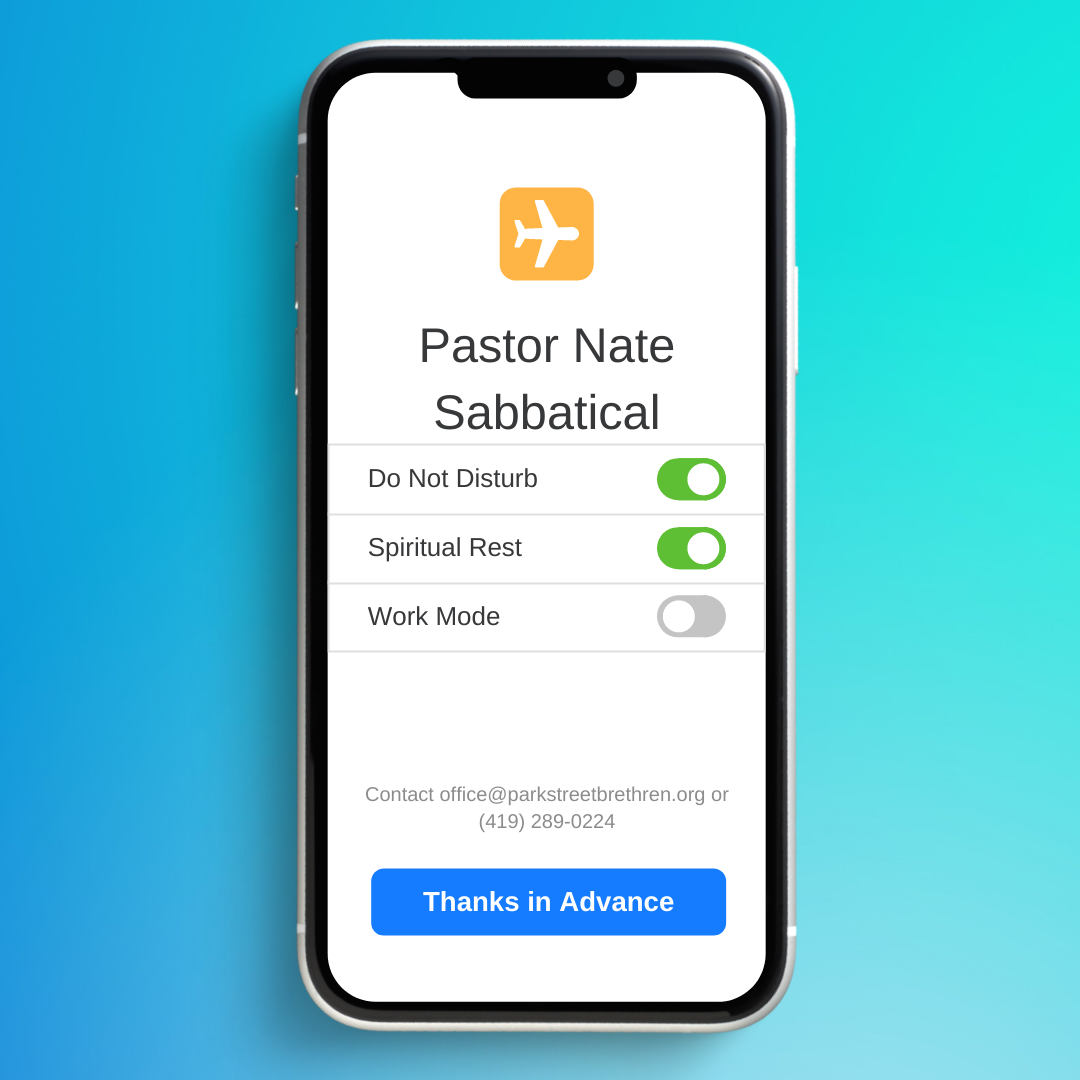 My company doesn't give away three-month vacations; why does our pastor get this?
Taking time for a sabbatical is a normal occurrence in pastoral ministry. To those in the business or service community, this may seem like an odd concept, but pastors are not CEOs. They are responsible for the spiritual health and well-being of the church at large, which requires taking time away to make space for God to speak, and for the pastor to listen.
When will he be away?
Pastor Nate will begin his sabbatical on Saturday, April 23, 2022, and return on Monday, July 25, 2022. This will allow him one week after Easter Sunday to finalize office logistics and return at the end of the summer in preparation for our normal fall start.
What will he be doing on his sabbatical?
Luke 10:27 CEV
"The Scriptures say, 'Love the Lord your God with all your heart, soul, strength, and mind.' They also say, 'Love your neighbors as much as you love yourself.'"
- Relational Health (Heart): Spending meaningful time with family & friends
Refresh my capacity and compassion
- Spiritual Health (Soul): Spending transformational time in Word & Spirit
Refresh my commitment to Christ and calling
- Physical Health (Strength): Spending significant time working out & resting up
Revive my body and balance
- Mental Health (Mind): Spending intentional time processing & creating
Recover my innocence and imagination
Who will oversee the ministry during his absence?
The ministry of Park Street Brethren Church has always been larger than any single pastor might accomplish.
As such, the office staff, leadership board, and deacons will be sharing the responsibilities of Pastor Nate's work to ensure we continue to care for our members, regular attenders, visitors, and community.
If you have a need during the sabbatical for which you would have reached out directly to Pastor Nate, contact office@parkstreetbrethren.org or (419) 289-0224, and we will put you in contact with the individual(s) you need.
Who will be preaching while he's away?
Park Street will be blessed with preaching from Dr. John Shultz, Sadie Vanderzyden, Tyler Henry, Adam Hawks, and Drew Meziere during Nate's time away. We believe this time will be as inspirational for the church as it is for Pastor Nate, providing opportunities for a few individuals to teach, lead, and guide Park Street with their own fresh perspectives.
What if I need Pastor Nate for something?
Pastor Nate will be unavailable during the period of sabbatical, and it's requested that you do not contact him for work-related purposes.
The leadership board will keep Pastor Nate up-to-date on a few key areas that have been agreed upon by both parties, to assure that these vital areas are not overlooked even while on sabbatical. This list is extremely limited.
How can I best support Park Street Brethren Church and Pastor Nate?
Remember, the church is bigger than the Pastor. Park Street Brethren Church exists because the entire body is committed to following Christ together. You are just as important to that system as the pastor.
Lean in, not out. This may feel like a good time to take a break while Pastor Nate is out for the summer. Fight the urge to take a break from attending, giving, or volunteering. This can be a time that the church comes alive in its multiplicity of individuals, each caring and serving with their own giftedness, strengths, and abilities.
Pray for your pastor. We know so many of our church attendees pray for our staff and their families and we are deeply grateful for that. Nothing provides the deep soul care that they each need to continue to serve than daily encounters with the living Christ. Pray Pastor Nate's time will lead to his own renewal, refreshment, and excitement for another season of leading Park Street Brethren Church well into the future.