Hootenanny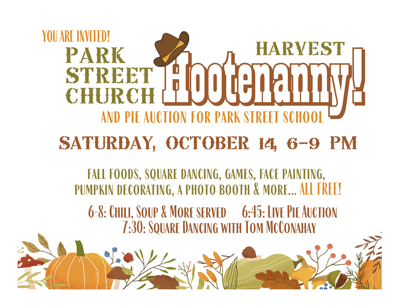 Saturday, October 14, 2023 - 6:00pm

Mark you calendar to attend this fun Park Street event!
There will be great fall foods, games, pumpkin decorating, face painting, square dancing, and a lot of fun!
Everything is free, except the Pie Auction which is a fundraiser for Park Street School. Come prepared to support our school!
If you would like to donate a pie, click here.
See you on the 14th!
« Back to Events
« Back to Kids & Youth
Park Street Brethren Church
619 Park St, Ashland OH 44805
office@parkstreetbrethren.org
Phone: 419.289.0224
Sunday Worship
9:00 am and 10:30 am
Children and adult classes both hours
Office Hours
Monday - Thursday
9 am to 3 pm
Copyright © 2023 Park Street Brethren Church. All rights reserved.