2018 Town Hall Follow-Up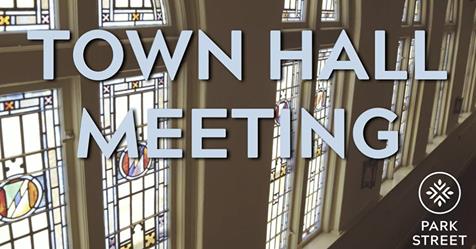 Thank you to the more than 170 individuals who came out last night to Park Street Brethren Church's Town Hall meeting.
It is an exciting time at Park Street, as we are looking to; affirm new Leadership Board members, affirm new Deacons, and approved a recommended building renovation plan being presented by the Leadership Board.
For those who were unable to attend, we have recorded the evening and you can watch the Town Hall.
We have also created a 7-Day Prayer Guide to help direct our time of prayer and discernment in the upcoming week. Physical copies are also available at the church if you'd like
Questions over the next seven days can be emailed to office@parkstreetbrethren.org. We will do our best to respond to your questions, even during this busy Thanksgiving week.
As discussed in the Town Hall, absentee voters and individuals who can not join us at church next week (11/25/18) to vote can Vote Online Here.